The Association
There are a number of charitable organizations committed to helping the poor in Nepal, but AA is a project with a difference. This organization concentrates on the education of girls. In total, we have 25 underprivileged children. There are numerous poor people who are desperate to give their children a better opportunity, but access to these individuals is very difficult. The children in the group have been identified through local contacts. The association works to establish a family atmosphere, a good system of education, and a better lifestyle for these children.
What Les Elfes does to help
• A number of our staff travel to Nepal in order to volunteer on the ground
• Les Elfes pay the flights to each volunteer
• We provide financial support by donating a fixed percentage out of our camp bookings
---
Volunteer trip stories
Fabiana Report September 2017: At ANA- Association Annapurna Nepal- I had opportunity to spend time with a host, at that time in  September, their were 13 girls and 2 boys. Schedule The volunteering schedule was based on a visit twice a day. The first one in the morning, to help the children getting ready to…
Watch the video and read the amazing stories Bicycles challenges and guitar lessons Our days were still filled with exciting games and outdoor activities around the house. The children had all become extremely proficient on the bicycles with many of them challenging us for a race at every opportunity. We found an old guitar in…
Les Elfes volunteer trip to Association Annapurna Nepal with Emma Cros and Andrew Robarts Arrival in Kathmandu Our trip to Nepal began on the 21st of April 2015 as we departed from Geneva airport and flew to Kathmandu via Istanbul. We spend the first two days of our trip in Kathmandu which gave us an…
---
Location
The house and school are to be found in the Pokhara Valley at an altitude of 900m. Surrounded by beautiful lakes and overlooked by the mountains of the Annapurna and Dhaulagiri ranges. It is a valley of wonderful natural beauty. There are hospitals, schools and other centers in the vicinity of the Children's House.
Why the priority for girls?
The idea of helping girls to go to school stems from my own experience. We believe that every child has the right to an education. A small girl is a future mother and the whole family benefits when the mother is educated. Research shows that families of literate and educated mothers have higher standards of hygiene, a better understanding of family planning, and an increased likelihood of children going to school.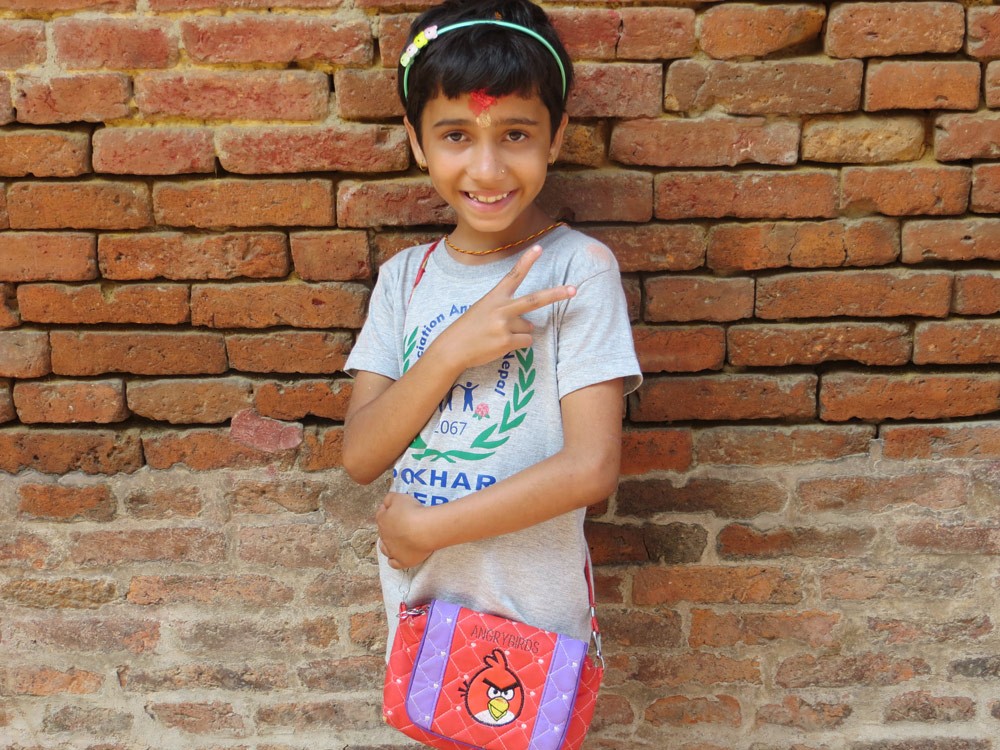 As a sponsor, you can be sure that all money donated goes directly into this program.
---
Contact Details for any further information
The responsibles in Switzerland
Dhan Adhikari and Leonie Burtin have formed the Annapurna Association to help children of Nepal. Since last year the committee is enlarging from 3 more members Didier Jacquemettaz, Maryse Kaiser, Joël Hiroz.

Leonie Burtin
Rte de Verbier 45
1934 le Cotterg
+41 27 771 42 52
Website: www.annapurna.ch.
Gallery